Many recent reports clearly shows that enquiries made to food banks are increasing at galloping pace creating much positive vibe in favor of various free food and hunger management programs. Various social economic factors apart from the pangs of poverty experienced by people across the globe are making the popularity of food banks inevitable.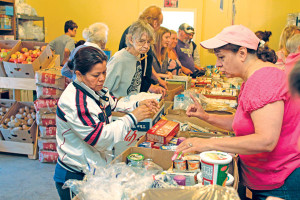 It is nevertheless worrying that even in technologically advanced countries there is a vast number of people reeling under the poverty stricken conditions struggling to feed themselves and their family. It is unquestionably a matter of utter shame that in 21st century world many people are forced to live on the generosity of others to survive. But with increasing number of food banks it almost took the shape of a social movement in many countries and no longer food banks are just generosity driven social undertakings. With the continued moral, social and financial support from the do-gooders food banks in the time to come can play a huge role in alleviating hunger and poverty.
Food banks dealing with poverty and more
Do food banks only deal with poverty? As far as the recent experience and findings goes, in many parts of the world food banks besides serving the hungry and poverty stricken people are also playing responsible role for people in distress and in other detrimental conditions. Besides the so called low income and no-income and diseased population food banks are helping various sections of society including abused women, families suffering from debt problems and students not getting meals. The non profit food organizations now serve many people with distress and hunger than the typical stereotyped poverty stricken sections of society.
The real social scenario
Looking at how much the food problem is affecting people and exactly who are the people affected most should be a priority now. Students, particularly children make up a major portion of beneficiaries of food banks. Among the employed ones low income people with poorly supported family and unemployed people make up the rest. Working families are increasingly taking help from food banks as the cost of living is increasing in many cities and urban areas.
As families are struggling to make their ends meet they are seeking social and community support systems like food banks. Increasing number of working families are just being pushed to the wall by the rising cost of livelihood and daily amenities. For these working populations living on the verge of poverty food banks offer a great support.
Moreover, in the present context food banks are taking the case of developing dependency seriously. Most food distribution agencies and food banks agree that without getting to the core problem behind the food scarcity they cannot make a real contribution in alleviating hunger and poverty for a vast population. This is the reason why many food banks are also working towards offering short term employment to hunger stricken people in their capacity. Offering unemployed youth a responsible social job in community food distribution system is good in engaging people for a good cause while creating a scope of employment for some people.
While debate over the effects of government policies will continue, it is more necessary to shape the food banks as a community initiative for people reeling under the poverty and suffering the pangs of hunger. While due to the rising economic pressure federal and provincial governments is actually cutting out the so called social benefits, food banks as community initiative serving people for their right to live and right to food.
With the increasing livelihood cost and decreasing government support a lot of underprivileged working families are finding it hard to meet their daily requirements of food. Inflation is making the situation even more complex and even the so called regular workers are also sometimes facing drastic situations to make ends meet. Food banks in this context are increasingly playing crucial role in bridging this gap for working people in financial distress.
Food banks serving mainstream people
From the above mentioned situations and impacts of food banks on the larger sections of society and population it is clear that food banks now have become a mainstream phenomenon rather than being limited to only the marginalized section of society. In many developed countries continued economic recession and slow economic growth made huge number of people turn to food banks every year. Some countries are experiencing a whopping 80 per cent growth in new food bank enquiries and the time is not very far when food banks will be more regular than all other socially motivated community organizations.
Food banks once were for solving a problematic but in the present socio economic context they can no longer be considered in their erstwhile minority serving status. Food banks (http://www.wisegeek.com/what-is-a-food-bank.htm) are now helping increasing number of people in the mainstream having regular jobs. Food banks these days became particularly instrumental in serving mainstream people who are migrating downwards due to economic pressure. As incomes are not increasing in comparison to inflation, low paid people are finding it hard to maintain their livelihood and this is the biggest reason behind the popularity of food banks among mainstream population.
Finally one must understand that food banks are not signs of a society going bad but far from it. They are actually the signs of our community strength against the uncontrollable hectic outcomes of economic maneuvers. Actually the emergence of food banks should be seen as a sign of strengthening social fabric. While there are millions of people reeling under the clutches of poverty and hunger and government welfare just not being able to address this worsening condition, a community to community support system like food banks can really play an effective role.