OVERVIEW
Paper is a thin material manufactured in thin sheets from fibers of cellulose pulp derived from wood, rags or grasses, and It is a multifaceted material with many uses, including writing, printing, packaging, cleaning, and some industrial and construction processes.
Copy paper is a lightweight paper that is used in copy machines also known as reprographic paper, copier paper, dual-purpose, or xerographic paper. It's thin with a small amount of transparency.
Copy paper is often mistaken for printing paper, with unhappy results. Copy paper is designed to be thinner than printer paper; copy paper is made to be printed on fast, and neat, so it's lighter weight enables it to speedily go through the copier machine, where printer paper would jam. If copy paper is used in a printer, the outcome is often that multiple sheets are dragged into the printer, often unevenly causing text to be out of alignment and images to turn out a soggy and blurred while.
Printer paper is specially produced to be used in laser and inkjet printers. It is thicker than copier paper and comes in various colors, sizes, and designs. Printer paper may come with headers, logos and other types of personalization, but it comes in plain white.
Before contacting A4 copier paper suppliers or A4 copy paper manufacturers, or A4 copy paper exporters please read the sections below: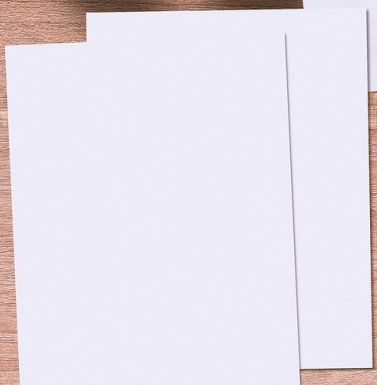 TYPES OF COPY PAPER
There are various kinds of copy paper available, but not all of them are produced for the same purpose. With the appropriate paper, colors can become brighter, black text can stand out more, and a document can have quite an impact on the individual reading it. Knowing which type of paper is appropriate for which kind of print jobs can make it easier to select the right paper.
Matte paper: is best for everyday use. Matte paper is a type of paper which has a white coating that enables the ink to dry fast. Because the ink does dry so fast on matte paper, it is unlikely to smear or become smudged with fingerprints.
Glossy paper: is specifically used for printing photos because the paper produces sharp, vibrant print due to its glossy finish. The glossy finish absorbs the ink to produce beautiful images. However, it is easy to smudge it with fingerprints, so it is essential to handle it gently until the newly printed item has dried completely. Glossy paper can become stuck to pages that are on the printed side, so it is important to avoid using it in conditions where it will be done that way, such as in scrapbooks.
Though the glossy paper is principally for photos and related applications, photo paper is specially designed for photos only.
Bright white paper: it can be printed on its two sides. In fact, it is designed for double use. With smooth, non-textured surfaces, it permits the user to print on both sides without altering the quality of the print. Due to its brightness, it is designed to make the black text, as well as other colors, stand out on the page.
USES OF COPY PAPER
Paper can be manufactured with a wide variety of features, depending on its intended use.
• For representing values: paper money, ticket, cheque, security, and voucher.
• For collecting information: book, notebook, graph paper, magazine, newspaper, art, letter.
• For personal use: diary, note to remind oneself, etc.; for temporary personal use: scratch paper.
• For communication: between individuals and groups of people.
ISO PAPER SIZES SYSTEM
The width-to-height ratio of all pages is the square root of two. In other words, the height and the width of a page correlate to each other like the diagonal of a square and the side. This aspect ratio is particularly suitable for a paper size. If you put 2 such pages next to each other, or commensurate cut one parallel to its shorter side into two equal parts, then the resulting sheet will have equal height/width ratio.
This system is based on the metric method. The square-root-of-two ratio does not allow both the height and width of the pages to be nicely rounded metric lengths. Therefore, the area of the sheets has been fixed to have round metric values.
A Series Paper Sizes
The ISO 216 description of the A paper sizes are based on the following basis:
The length divided by the breadth is 1.4142. The A0 dimension has an area of one square meter. Each subsequent size A(n) is defined as A(n-1) cut in half parallel to its shorter sides. The conventional width and length of each size are approximated to the nearest millimeter.
Sizes for A Series Paper – A0, A1, A2, A3, A4, A5, A6, A7 and A8
A4 copy paper is the most popular paper size.
A4 Paper Size Facts (being the commonly used paper)
Dimensions
A4 size in millimeters = 210mm x 297mm
A4 size in inches = 8.3in x 11.7in
A4 area in square meters = 0.06237m2
A4 area in square millimeters = 62370mm2
A4 area in square feet = 0.671345093ft2
A4 area in square inches = 96.673693347in2
PROPERTIES
• Brightness: brightness of paper is not significantly related to color or whiteness. Brightness is a quantitative measurement process (used with numbers), whereas whiteness is a subjective judgment. A blue-white and yellow-white paper can have the same brightness value but look very different.
• Opacity: opacity is the ability of paper to hide printing on its opposite side, or on sheets beneath. In other words, the higher the opacity of paper, the smaller the show through of print from the sheet below.
• Colors: The most popular shades are white and cream. Pastel shades and high luminance colors are also widely accessible. The paper always has a similar color on both sides.
• Texture: Smooth and bright white. During the production of this paper chalk (or similar material) is added to make the surface as flat as possible. The fibers are short. When viewing at the paper while holding it against a light source, you can notice the unevenness of the diluted spreading of fibers, just like a stained glass covered with dust. The transparency is quite high since the paper is white and of medium thickness.
• Tensile Strength: Tensile strength is the highest stress the paper can undergo while being stretched or pulled.
POPULAR BRANDS OF COPY PAPER
• Double A
• PaperOne
• Xerox
• Typek
• Epson
• HP
BUYING GUIDE FOR A COPY PAPER
Be it for home documents or office; copies are made for different requirements. While people preoccupy themselves in checking copier and ink quality, it is also necessary to find proper copy papers for different documentation requirements.
THE BEST WAY TO PURCHASE COPY PAPER
Whether you buy the copy paper from paper suppliers or paper manufacturers, here are some suggestions for you:
1. Read the copier's user guidebook
It is important that you review the instruction manual given along with the copier or multi-function machine. Quite some people don't seem like following manuals because they prefer "trial-and-error" methods. But, eventually, results aren't pleasing. However, you can avoid any such errors by studying the sizes, feeders specifications, and other necessary information.
2. Choose the accurate size
A4 copy paper size is the most used for home and offices. If you are in need of larger specifics, you can find so for the large-format printers.
3. Variety of brands makes it easy to distinguish and sort certified paper products by incorporating easy-to-locate logos or emblem on their labels. Getting intimate with the logos of certification organizations like FSC and SFI makes choosing a responsibly sourced and manufactured office paper a bit simpler.
PAPER CERTIFICATION SYSTEMS
Certification systems for paper products are almost everywhere – there are advantages to each system, and each is held to a diverse set of criteria and rules, many of which are considerably detailed.
Here are some of the principal certification organizations for copy paper:
Forest Stewardship Council (FSC)
FSC certification requires strict accountability, planning, compliance measures, as well as adherence to its ten policies, and additional guidelines that help ensure the reliability of the FSC mark. The FSC mark means that a third-party auditor has verified the complete product supply chain from a sustainability viewpoint, also known as chain-of-custody certification. It means the wood is collected from FSC-certified forests, processed by certified processors and transported by companies with shipping papers that identify the goods and certification requirement. FSC certification also includes socio-cultural requirements linked to indigenous peoples' rights and the influence of forestry activities on surrounding communities.
Sustainable Forestry Initiative (SFI)
SFI certification emphasizes on certified fiber sourcing, supply chain, and chain-of-custody. SFI certification also puts a high premium on "continuous improvement" of forestry management practices as well as measuring and reporting progress toward SFI-mandated criteria. These standards, which are updated every four years, promote sustainable forest management by approaching key environmental, social and economic forest values – from the quality of water and biodiversity to harvesting and regeneration.
There are several other certifying organizations that address forest activities in the world such as the American Tree Farm System and international organizations, and the Switzerland-based Programme for the Endorsement of Forest Certification, UK-based green standard certification.
COPY PAPER PRODUCTION PROCESS
Since the beginning of papermaking, a paper has been produced out of a variety of materials- rise, old clothes, water plants, cotton, and wood pulp. What you can't take away from this reality is that fiber is required for paper production. Fiber can come from two sources- pulpwood logs and recycled paper products. The most paper that we use today is a mixture of both old (recycled paper) and fresh paper wood fibers.
Wood to Pulp
Most of the paper produced from wood "waste." Waste is a by-product of the logging and sawmill factory. The waste comes from tree parts that are not useful in making lumber. The logs are cut at the mill into various sizes. Then the wood is left over, and it is then converted into wood chips. The wood chips are placed into a "Pulp digester." The PD's break down the chips by steam and chemicals, producing a gloppy mush of cellulose fibers. In the following process the wood resins, wood lignin, and cellulose chemicals are eliminated. The last step in forming pulp is cleaning. The wood pulp is cleaned various times to get it set to be formed into paper.
Pulp to Paper
The pulp is set to be made into paper. The initial step is that pulp (from wood chips, recycled paper, or both) is supplied into the paper machine. A pump sprays a tiny layer of the pulp mixture onto a wire, moving screen. The pulp is carried along by the screen at speeds as fast as sixty miles per hour. While the pulp mixture is on the screen the water drips, and the cellulose fibers bond together, producing paper. While the paper is still wet, it is put through a set of heated rollers- drying and pressing it out. The final paper product is then put onto huge rolls, ultimately cut into different sizes and converted into various paper products.