Stereo microscopes differ vastly in functionality from other types of microscopes available in the market. Such microscopes are a great help in viewing large as well as small objects for inspections to detail. With the impeccably great design and ability to offer superior functionality, stereo microscopes have become the most preferred microscopes of researcher everywhere, today!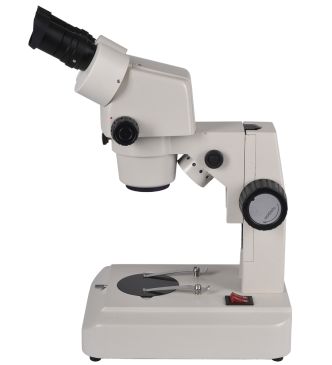 Stereo microscopes have extensive usage in a wide variety of fields for research, and development.  From scientists involved in studying the various aspects and behavioral traits of live insects to researchers studying different materials that compose soils, to studying different types of rocks, crystals, t examining the beautiful flowers and its intricate parts stereo microscopes offer best value for their investment and saves them time and effort.
Scientists, researchers, and students have all favored stereo microscope for its simple yet versatile design and great engineering that offers superior performance over other types of microscopes on the market. The user-friendly design and the ability to offer superior visibility of the images, documents, specimens in a wide variety of studies and easy maintenance are some of the factors that help these types of microscopes get an edge over others.
Many manufacturers have come up with stereo microscopes that offer great attention to detail and have great designs, and engineering based on research. Such microscopes, enhances user experience while offering great functionality.
What do Researchers look for in a Stereo Microscope?
To be successful in a business, it is important to be receptive to feedback from the users; customers, understand the needs and demands of the market and develop products that fully cater to the target market. Some of the factors that researchers, scientists, students look for in a stereo microscope are:
•  Magnification:  The purpose of any microscope is to magnify the object under study and help the researchers find every minute details about the object Stereo microscopes offer enough zoom capabilities in the range as little as 2x to 300x. These microscopes offer to help you with three-dimensional precise image for various studies, especially in the field of biological sciences.  With better equipment like lenses and eyepieces, you can derive a greater magnification in the range of 200X – 800X with a stereo microscope.
•  Illumination: To help get a clear picture of the object under scrutiny proper and adequate amount of illumination is required. Illumination determines close to 70% of that you see of an object using a microscope. From double beam to triple beam and fluorescence to epifluorescence illumination required for different purposes of research and study. Such tools offer uniform illumination even for low magnification throughout a large field under study.
•  Automation: Automation makes stereo microscopes use friendly and very easy to use. Such n automation improves efficiency, speed, and saves time. With the help of different software, it becomes easy to control the devices and also achieve greater efficiency, and derive better results. Software can detect any changes made to the parameter and can made necessary adjustments automatically.
Magnification, Illumination, Automation are the primary factors when considering investing in a stereo microscope, however, finding a product with special features that meets the unique and special needs of your target customer will help you gain competitive edge over your competitors.
A stereo microscope that can work with existing software and is compatible with all the popular software makes your products user-friendly while offering full automation.  In addition, the microscope should be compatible with other required accessories and equipment such as a digital camera. Finally, the ability of the microscope to work perfectly under your specific working conditions such as the working distance,  magnification, illumination, field of view, etc. makes your product perfect fit for either hobbyists or for researchers.
Some of the dependable stereo microscopes available on the market today come with great optic and durable manufacturing. For better-controlled illumination LED ring light A+/- 30 degrees to control surface glare, etc. In addition, hi-precision optics, superior coatings helps in proper color reproduction, high-definition, and focus. To view images exactly as they appear microscopes come with a white light. Lockable eyepieces of the microscopes add an extra layer of security and interchangeability. For stress free and ease of operation smooth fluid controls are special features of the microscopes available on the market.
Stereo microscopes come with great ergonomic design to enable long hours of use without much physical stress. These microscopes have a large number of uses in the modern world. From PCB inspections to biological research and quality control stereo microscopes (www.wisegeek.com/what-are-the-different-types-of-stereo-microscopes.htm) are seen everywhere!