Chemical Agent Resistant Coating (CARC) was developed specifically to provide better protection to US army vehicles. CARC paint offers many benefits when used on army tanks and other tactical vehicles. The application of CARC paints is regulated and only licensed manufacturers can produce it for the army.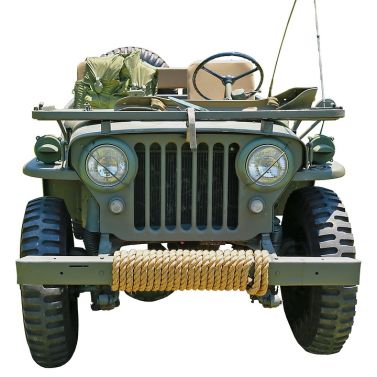 Here are the advantages of CARC coatings:
Camouflage Capabilities
One of the needs in the war zones is for camouflage and CARC paint can offer precisely that for military vehicles. CARC coating on army vehicles offers them both infrared and visual camouflage. CARC paint contains special pigments that make it possible for US tactical vehicles to avoid detection through infrared technology.
Special colors have been formulated to offer camouflage to US army vehicles in different types of war terrains. Some colors for CARC paints were developed to be used with specific terrains in mind such as tan for use in desert and sandy terrains. Earlier, most vehicles had camouflage properties for only forest regions or greener areas. The colors were developed after inputs from the experienced army personnel and were not only decided by the CARC research team. Special green and tan shades were formulated to provide adequate cover to tactical vehicles in different war zones.
Chemical-Resistant Capabilities
CARC paint has a non-porous formulation. The CARC coatings don't absorb chemicals and offer greater protection to vehicles and army personnel in case of chemical attacks. When military vehicles are coated with CARC paints, they also receive protection from radioactive compounds and different types of harmful biological agents.
Chemical warfare is a real threat in combat zone. Chemicals can penetrate vehicles and even reach personnel and equipments inside them. But with use of CARC paints, every vehicle is safe. The chemicals remain on the surface of the vehicle only. The toxins cannot penetrate the metal on the vehicles.
The CARC coating process consists of three steps that make the vehicles safe from all chemicals. The pretreatment stage follows with a coat of primer. Then a topcoat is applied, which consists of aliphatic polyurethane. This three-tiered process used for CARC paint applications offers the ultimate protection from chemical agents in conflict zones. Some army vehicles also receive an additional coat of enamel over the primer layer. These steps are necessary to fully utilize the protective properties of CARC paints.
Decontamination Capabilities
Decontamination of military vehicles can be a time-consuming process and it is also very expensive. But with the chemical-resistant properties of CARC paints, it is easier to decontaminate vehicles that have been exposed to toxins.
CARC paints are also durable, so the coating doesn't get affected by the neutralizing solutions. The vehicles remain safe and can be used for a long time.
Environment Safety Capabilities
Over the years, there have been many changes in the CARC paint technology. Newer and better processes have been developed to make the coatings safer for the environment. Many changes over the years have lessened the VOC emissions from the chemicals used in the CARC paints. For example, primer specifications were altered to make the substance more stable for the environment. Similar changes were made to topcoats and other coatings as well. VOCs are volatile organic compounds that most chemicals release to some degree. These are present in common items such as paint and not necessarily only in industrial emissions.
Fewer VOC emissions are also beneficial for the personnel using the vehicles as these compounds remain in the air and can enter the lungs. VOCs can impact the health of the military personnel depending on the presence of these chemicals in the nearby environment. Current CARC paints are less damaging to the environment and release fewer toxins in the air.
Cost-Savings Capabilities
Absence of extensive decontamination steps leads to savings of significant amounts of money. The durability and protective capabilities of CARC paint also extends life of military vehicles and all the tactical equipments housed in them. Use of CARC paints is actually an investment from the government that leads to cost benefits in many ways. The environment safety properties of CARC paints also translates into less investment for managing the toxic emissions.
Related posts:
Benefits of Powder Coating Powder coating services are popular for industrial processes due to the many benefits of this...